How Often Should I Wash My Dog?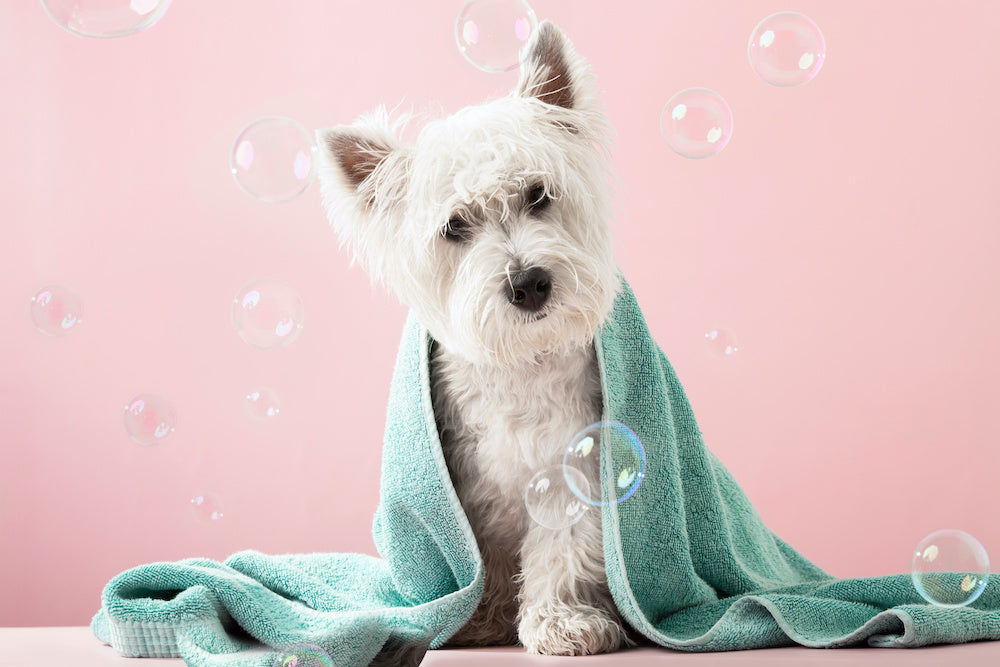 Every dog is unique, and each has different needs and requirements regarding bathing and grooming. That is why our dog wash experts at Incredible Pets, located in Sacramento, California, have an answer to the common question: "How often should I wash my dog?"
Here's the quick answer — because every dog is different, each dog has unique bathing requirements. 
But there are some general guidelines. Dogs with short coats usually need to be bathed less frequently than those with longer or bushier coats. For most pups, a dog bath once every 2-3 months is sufficient. 
How often you should wash your dog depends on many factors. Here are some questions to ask yourself.
How active is your dog?
Active dogs that spend a lot of time outside usually need to be bathed more frequently than sedentary canines. That is particularly true for dogs that run through the mud or underbrush, or pups that enjoy swimming. Not only does dirt build up on active dogs, they often develop an odor after all of that running around. 
When you take your active dog to Incredible Pets for a self-service dog wash, use that time to scan their skin for ticks. Ticks are becoming more common in the Sacramento area, and they often cling to and bite dogs. 
What kind of coat does your dog have?
As we noted earlier, short-haired breeds generally need to be bathed less than breeds with curly or long coats. If your dog has long or curly fur, consider using our self-service dog wash every 4-6 weeks. Remember, these breeds also need more grooming, such as combing and trims. We have plenty of grooming tools available at Incredible Pets to meet your needs.
And just because a breed doesn't have hair, it doesn't mean they don't need to be washed. In fact, these breeds should be washed weekly because they don't have the protection of a coat. 
Does your dog have skin issues or allergies?
If your dog has allergies or skin issues, you might need special shampoos to soothe its skin. In these cases, the dog wash frequency should be based on your vet's recommendations. 
For dogs with itchy skin due to allergies or other issues, bathing them with a special shampoo can help them find relief. Incredible Pets offers several shampoo options for dogs, and our friendly staff can help you pick the best one that meets your pup's needs.
Is it possible to wash my dog too much?
Yes. Have you ever washed your hands too often and noticed they became red and irritated? They may even crack and dry out. The same thing happens to your dog's skin if you wash them too often because it removes the natural protective oils. 
If your dog needs to be bathed more than once a month, talk with our dog wash experts. Our team can recommend the best moisturizing shampoos and offer dog bathing tips to help keep their skin smooth and healthy. 
Remember, we are the dog wash experts in Sacramento, so if you have a question — just ask! We are happy to help.
Utilize our self-service dog baths at Incredible Pets
Bathing your dog at home can be a mess. That's because most bathrooms aren't created as dog wash stations. Many people try to put their dog in the tub only to watch it knock over shampoo bottles and shake water all over the floor. For many pet owners, cleaning up after a dog bath takes longer than the bath itself. 
At Incredible Pets, we make the process easy. When you bring your pup to our self-service dog wash, you leave the mess with us! Here are some of the benefits of washing your dog at Incredible Pets:
Just walk in! You don't need an appointment

Affordable pricing

Discount packages when you buy multiple dog washes

Premium shampoo provided

Ramps and tethers keep your pup safe

Raised dog wash stations keep your back from hurting
If you have questions regarding our dog bath process, simply call our store in Sacramento, CA. We love pets and want to help you keep your dog clean and healthy!